Hey everyone! I am alive in case you were wondering, haha! Sorry that I've been a bad blogger this week, but this week has been pretty busy! Okay let's be honest, I've been busy and I had a lack of inspiration for my blog posts. So instead of boring you with lame posts, I waited until a day like today when I had something to write about! I have two days of C25K left that I need to complete for week 3 so as soon as I finish this blog post and send some e-mails out I'm going to go work out.
While I am thinking about blogging though, I wanted to take the time to post some of my Friday Favorites which includes some of my favorite celebrity looks from the week, a favorite purchase, and a yummy recipe that I can't wait to try!
Favorite Recipe
I was browsing Pinterest this morning and saw a recipe for
these cookies
. Deep dish chocolate chip caramel-filled cookies. I have the ingredients on hand so I may have to make these at some point this weekend! I might try to make them Double Chocolate Chip Salted Caramel Filled cookies though. If that works I might have to post the recipe!
Favorite Celebrity Looks
While I would love to be a fashion blogger, that's just not me. At least not at this point in my blogging. However, I did graduate with a Merchandising, Apparel, & Textiles degree so obviously I love fashion. I was browsing InStyle's website and these are some of my favorite looks from this week's Look of the Day posts!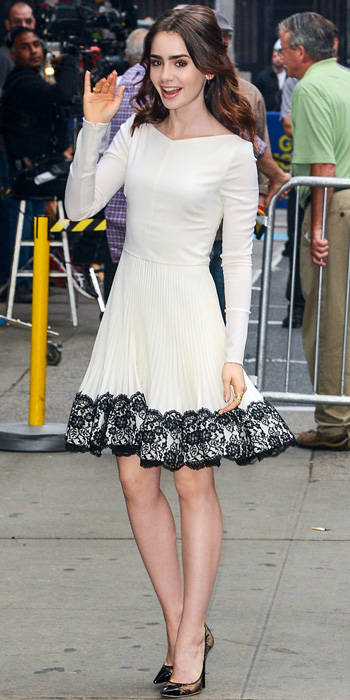 Lily Collins in a Valentino dress and Jimmy Choo Accssories -- via
How cute is Lily's dress? I love the long sleeves and then the hint of girly, feminine lace at the bottom of the dress.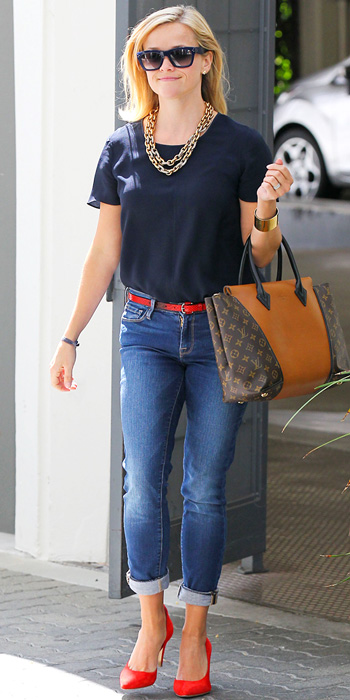 Reese Witherspoon - via
I love the Navy top with the rolled jeans and a pop of color with the belt and pumps. The necklace is simple but it still pulls the whole look together. Reese is one of my favorite actresses and this is a great, simple look that I feel like I could easily recreate at home. Minus the Louis Vuitton bag.
I love Hannah Simon's skater dress that was made by Ted Baker London.
Favorite Purchase
Next weekend is my boyfriend's brother's wedding and I have been looking for the perfect dress. I found this dress on Rue La La's website in their "
Ten Thousand Dresses
" event. The dress is on it's way to me now and it should be here Monday! It's sold out now on Rue La La, but I found it on
6PM.com
too.