01 02

03 04 05 15 16 19 20 21 22 23 24 25 26 27 28 31 32 33 34 Another Sunday is here and if you ask me, this weekend went by way too fast! Besides Church, this Sunday will consist of writing this blog post and applying for new jobs. I really need one of those to finance my shopping problem lately. Maybe this week I'll write a post about the things that are on my wish list!

Last week I linked up for the GFC Lovin' which brought me some lovely new readers! Thank you for deciding to follow this little blog of mine and I hope that you all will enjoy following me. I should probably make a 25 facts post about me or something else so you all know exactly what you got yourselves into! Look, new followers and you all are already inspiring me with post ideas! Before I write those posts though, I wanted to do my usual Sunday Social link up! I link up to this weekly because it's one of my favorites! Anyways, let's get to it, shall we?

This Weeks Questions

1. How did you come up with your blog name? Well, originally I was With Love from Rae, but when I discovered that was very similar to this awesome blog, I decided to rename my blog. On May 28, 2012, I started dating my boyfriend that I met while I was down in Orlando, Florida completing the Disney College Program. Five Twenty Eight is simply the date when I started dating my best friend. Cheesy I know, but it means something to me!

2. What is your favorite thing about blogging? Having wonderful people out there who actually care what random things I have to say! Who knew people would actually want to follow me? I love to be able to read posts from other bloggers, comment, get to know them, and just the community of it all. I'm still relatively new, but I'm excited to see the new friends that blogging will give me! True fact: I've also had a tumblr account since 2009 and I'm still in contact with a couple of my friends from there! One of these days I will get out to LA to meet my unofficial little sister :)

3. What is one thing you have discovered because of blogging and now can't live without? Coach Factory's website and all these other sites that you can use to save money! I had no idea about sites like Rue La La until I read another blogger posting about them. I also really want a Diptyque candle after seeing how they can be repurposed after you burn them completely!


How amazing is her desk space?! One of my new "must read" blogs which inspired my need for Diptyque candles.

4. Facebook or Twitter? and why? Twitter because I follow people that I want to follow. Maybe I'm the only one, but on Facebook I feel sometimes like I'm obligated to be friends with people just because they are family or I went to high school/college with them. Half the people post things that frankly I don't care about. I hope that doesn't make me sound like a bad person, I'm just being truthful. For example, I had a facebook "friend" who loved posting repetitive posts. Oh another guy screwed you over? Okay go post that on Facebook where OTHER guys can read that. I'm sure that will definitely help you get the next guy after they read that. Yes that was a real life situation.

5. If one celeb read your blog who would you want it to be? Oh goodness, this is a tough one. Reese Witherspoon, Emma Watson, or Taylor Swift.

6. What is something you want people to know about your blog? I'm still pretty new and learning where I want this blog to go. I want people to enjoy reading my posts and know that if they ever need someone to talk to, even if I don't know them that well, I am here for them to talk to. I love comments from my readers and I try to keep it real. My life isn't that exciting, but it is my life. I will be blunt(see my response to #4) and while it might seem like I'm rude, I consider myself to be a friendly person. I love making new friends and I hope some of my readers will become friends!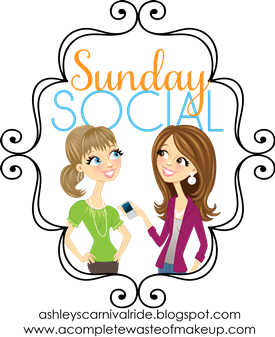 Labels: Blogger, Blogging, Disney, Disney WDW CP, Lifestyle, Social Media, Sunday Social, Walt Disney World College Program, WDWCP

35 36 37 38