01 02

03 04 05 15 16 19 20 21 22 23 24 25 26 27 28 31 32 33 34

Happy Sunday!



I hope you all are having a great relaxing Sunday. Today I'm linking up for the weekly Sunday Social with A Complete Waste of Makeup!

1. What is your favorite Social Media outlet?







I love Instagram! I love feeling like a real photographer, even if I'm not. I love putting cool effects on pictures and making them look cooler or "more hipster" as some people like to say.




I also love bloglovin' and twitter! Bloglovin' is one of my favorites for helping me keep up with all of my favorite blogs and keeping them organized for me. Twitter is just fun to have to follow my friends, celebs, news sources, fellow bloggers and companies that I'm interested in. I am signed up with a variety of social media outlets, but these are my three favorites that I check daily!


2. Do you subscribe to any daily news reads? If so, which ones?
I don't subscribe to any daily news reads. Hmm, maybe I should.

3. Favorite magazine to have by the pool?


InStyle Magazine! I've been reading this magazine for over 5 years! Even if I try out new magazines like Elle, InStyle is the one that I consistently go back to!

4. Favorite summertime song?
Anything country. To me, country screams summer. Especially when I'm listening to songs like "Long Hot Summer" by Keith Urban or "Summertime" by Kenny Chesney. Those are just two that I can think of off the top of my head, but here are three videos/songs that I love. The third song is "Lightning In A Bottle" by The Summer Set and the fourth is Cruise(remix) by Florida Georgia Line with Nelly! I love music so it's super hard for me to narrow down to just ONE song! Too many favorites!


Long, Hot Summer -- Keith Urban




Summertime -- Kenny Chesney




Lightning in a Bottle -- The Summer Set




Cruise (Remix) -- Florida Georgia Line feat. Nelly


5. Best summer concert you've been to?


Kenny Chesney for sure! I saw him in 2008 on The Poets & Pirates tour in Cincinnati, OH! It was awesome even if we had grass lawn seats! In 2006, I saw Brad Paisley and Carrie Underwood on Brad's Time Well Wasted Tour in Louisville, KY which was great too! One of these days I WILL go to CMA Fest down in Nashville! It seems like such a great time!




I hope you all are enjoying your Sunday relaxing or whatever it is you are doing!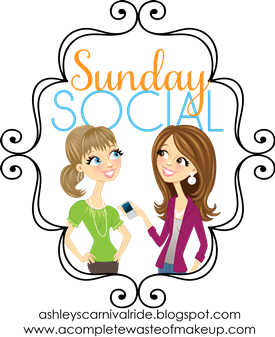 Labels: CMA Fest, Concerts, Lazy Sundays, Lifestyle, Music, Nashville, Social Media, Stay Connected, Summer, Sunday Social

35 36 37 38