01 02

03 04 05 15 16 19 20 21 22 23 24 25 26 27 28 31 32 33 34 Hello, lovely people!





Today has been another lazy, simple Sunday. I woke up and got ready for church, came home, ate lunch, and lounged around til I went to the tanning bed! I'm so excited to go to the beach in a couple weeks even though I don't have "the perfect beach body." I'll still have fun. Anyways, today I'm linking up for Sunday Social, so let's get started! The theme this week is Pinterest!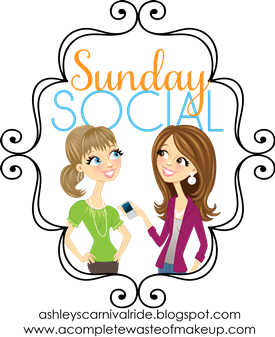 This Weeks Questions:
All About Pinterest
1. What is your favorite outfit pin?
This pin has been floating around Pinterest for a while, but I still love this one. Instead of jeans, you could do jean shorts for summer months and a short sleeve black shirt instead. I love the aqua and hot pink together and the simplicity of this outfit!
2. What is your favorite food pin?
I used to work at Disney, and I miss the food there. I especially love Dole Whips, so if this recipe actually worked, it would be awesome!!
3. What is your favorite wedding pin?
I currently work as a bridal consultant, so I have a few!! Sorry I'm not sorry :)
Dream dress with less poof and all ivory. I saw this dress in person for our Allure trunk show and it was gorgeous. <3 amazing="" back="" div="" is="" the="" too.="">3>
Love this
4. What is your favorite DIY/Craft pin?
This looks so easy and it's still cute!!
5. What is your favorite quote/verse/lyric pin?
6. Share one more random pin you love.






That was fun! Now time to go watch the ACM's!!




Labels: Sunday Social

35 36 37 38