01 02

03 04 05 15 16 19 20 21 22 23 24 25 26 27 28 31 32 33 34

Sorry for the lack of posts this week. I don't have any real exciting news to share with you except the fact that since Wednesday I have had this feeling that some kind of change is coming my way. I don't know HOW to describe the feeling, and maybe I'm going crazy, but I'll explain after I finish this link up with Pearls & Curls!! I held off yesterday's post in order to be able to link up with one of my very first followers!



1. My Easter Sunday outfit! 2. Driving home from work today on I-65
3. Enjoying a glass of Moscato and The Voice in my favorite chair.
4. Stripes and my black dress -- one of my work outfits this week!
5. Friday night I saw a recipe on Pintrest for homemade baked french fries. The result was yummy and super easy!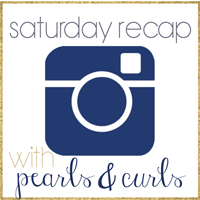 I have been feeling like a change is coming my way and although I can't say too much right now, my gut instinct was right. Today I got an e-mail from a company that I applied to wanting me to schedule an interview!! It is still not my dream job, but this would pay as much or hopefully better and it would eliminate my 30 minute drive to and from work on the interstate and parkway each day. I could really use some prayers or some positive thoughts my way because I really hope this can work out!! :) If I ever needed to transfer to a different location, I would be able to and also there are promotion opportunities, unlike my job now!! The only problem is trying to schedule the interview since I work whenever they want me to come in...=/ what to do, what to do!





Anyways, hope you all are having a great weekend!! Leave me comments if you'd like to say hi!!




Labels: Fashion, Instagram, Lifestyle, OOTD, Saturday Instagram Recap, Style

35 36 37 38